HooperSonic Turns 6


March 27 (Saturday) at 11:30 am
FREE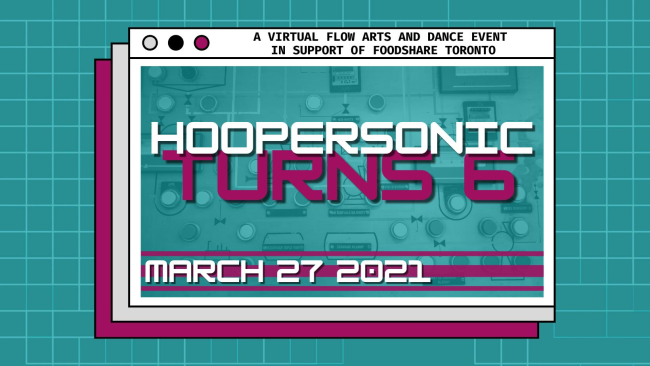 HOOPERSONIC IS TURNING 6! SO LET'S CELEBRATE VIRTUALLY, TOGETHER!
Join us for this special day which will be filled with exciting workshops and a showcase to top it all off!

The idea behind our workshops this year is to make it easy for everyone to participate from home without having to have access to a bunch of different props. This festival is for EVERYONE! So please pass the info along to your "non-flow artist / circus" friends too! They might discover something NEW and FUN!

For each non-hoop workshop, it will be possible to participate using household items OR things you can easily pick up at a dollar store. They will also be suitable for beginners. Since HooperSonic is hoop-focused, the hoop workshops will mostly be geared towards hoopers with at least a little bit of experience, but all levels are welcome and encouraged by instructors! You never know what you will learn!
This event is FREE but we will be accepting donations on behalf of FoodShare in an attempt to raise $2500! In return for your contribution, you will receive entries into our raffle and recordings of workshops! You can find more info and a link to donate here:
--------
FoodShare, aims to centre food justice in their work by collaborating with and taking our cue from those most affected by poverty and food insecurity — Black, Indigenous, People of Colour, People with Disabilities. Our goal is to inspire long-term solutions for a food system where everyone has access to affordable, fresh, nutritious food. FoodShare reaches over 260,000 people each year.
---------
2021 INSTRUCTORS:
1) Dawn Dreams - Contact Ball for Hoopers (Beginner Level)
2) Danielle Echols aka: Crafted Movement - Belly Dance Hoop Flow (All Levels)
3) Celeste Henriques-Powell (The Pink Studio) - Beyoncé Dance Class (Beginner Level)
4) Scarlet Black - Poi (Beginner Level)
5) Meghan Ferguson (Ohmega) - Twin Hoops - (Intermediate, but All Levels welcome)
6) Brandon Walters - Juggling (Beginner Level)
7) Erika Williams (aka: BBxFlow) - Twin Hoop Choreo (All Levels)
8) Barbara Diabo - Powwow / Hoop Dance (All Levels)
9) Alex Webster - Poi (Intermediate Level)
10) Christian Medina (Insignia) - Double Staff (Beginner Level)
11) Christina Hicks (Tall Tina Twirls) - Ghosting Isolations (All Levels)
12) Gila Münster - Drag Inspired Eye Make Up (All Levels)
Hoop to see you there!
Add to calendar
Add to my Calendar
03/27/2021 11:30
03/27/2021 21:30
America/New_York
HooperSonic Turns 6 - HooperSonic - Various
Online!
<div><br></div><div><img src="https://res.cloudinary.com/punchpass/image/upload/v1614566415/client_emails/owp5spydhjepfz0quwg0.png" class="fr-dib" width="459" style="width: 459px; height: 258.441px;" height="258.441"><br>HOOPERSONIC IS TURNING 6! SO LET'S CELEBRATE VIRTUALLY, TOGETHER!</div><div>Join us for this special day which will be filled with exciting workshops and a showcase to top it all off!</div><div><br>The idea behind our workshops this year is to make it easy for everyone to participate from home without having to have access to a bunch of different props. This festival is for EVERYONE! So please pass the info along to your "non-flow artist / circus" friends too! They might discover something NEW and FUN!<br><br>For each non-hoop workshop, it will be possible to participate using household items OR things you can easily pick up at a dollar store. They will also be suitable for beginners. Since HooperSonic is hoop-focused, the hoop workshops will mostly be geared towards hoopers with at least a little bit of experience, but all levels are welcome and encouraged by instructors! You never know what you will learn!</div><div><br></div><div><strong>This event is FREE but we will be accepting donations on behalf of FoodShare in an attempt to raise $2500! In return for your contribution, you will receive entries into our raffle and recordings of workshops! You can find more info and a link to donate here:</strong></div><div><strong><a href="//www.hoopersonic.com/ht6">www.hoopersonic.com/ht6</a></strong></div><div><br></div><div>--------</div><div><em>FoodShare, aims to centre food justice in their work by collaborating with and taking our cue from those most affected by poverty and food insecurity — Black, Indigenous, People of Colour, People with Disabilities. Our goal is to inspire long-term solutions for a food system where everyone has access to affordable, fresh, nutritious food. FoodShare reaches over 260,000 people each year.</em></div><div>---------</div><div><br></div><div><strong><u>2021 INSTRUCTORS:</u></strong></div><div>1) Dawn Dreams - Contact Ball for Hoopers (Beginner Level)<br>2) Danielle Echols aka: Crafted Movement - Belly Dance Hoop Flow (All Levels)<br>3) Celeste Henriques-Powell (The Pink Studio) - Beyoncé Dance Class (Beginner Level)<br>4) Scarlet Black - Poi (Beginner Level)<br>5) Meghan Ferguson (Ohmega) - Twin Hoops - (Intermediate, but All Levels welcome)<br>6) Brandon Walters - Juggling (Beginner Level)<br>7) Erika Williams (aka: BBxFlow) - Twin Hoop Choreo (All Levels)<br>8) Barbara Diabo - Powwow / Hoop Dance (All Levels)<br>9) Alex Webster - Poi (Intermediate Level)<br>10) Christian Medina (Insignia) - Double Staff (Beginner Level)<br>11) Christina Hicks (Tall Tina Twirls) - Ghosting Isolations (All Levels)<br>12) Gila Münster - Drag Inspired Eye Make Up (All Levels)</div><div><br></div><div>Hoop to see you there!</div>
HooperSonic
false
MM/DD/YYYY
1440